The Deadline to pay 2021 REALTOR® Dues is December 31, 2020!
Log in to your HUB account to View and Pay your Invoices. Click
Here
to Log In and pay now.
WHAT DO MY DUES COVER?
As a REALTOR®, you have a voice in Washington advocating for your industry. Since 1969, RPAC has promoted the election of pro-REALTOR® candidates across the United States. The purpose of RPAC is clear: voluntary contributions made by REALTORS® are used to help elect candidates who understand and support their interests. These are not members' dues; this is money given freely by REALTORS® in recognition of the importance of the political process.
Resources
As a part of the REALTOR® community, you have access to a myriad of support services!
SCR Legal Hotline - 803-772-5206
You can call the SCR Legal Hotline and speak to a qualified attorney on real estate laws and related matters.
TechHelpline - 877-573-5607
From printer problems to software solutions, the TechHelpline is available to help you make technology work for you and your business.
ZipForms - www.screaltors.org/forms/
Get access to the most powerful real estate form software available, including up to date forms that protect you and your clients!
The Code of Ethics
At the core, being a REALTOR® is about holding yourself to a higher Code of Ethics. The National Association of REALTORS® adopted a code that outlined their duties to their clients and to other brokers to create a better real estate community. When clients use a REALTOR®, they know they're getting the highest ethical service.
Designations
Being a REALTOR® is all about going above and beyond, so the National Association of REALTORS® offers specialized training courses that help you grow as an agent and market yourself to potential clients. Our members can become Accredited Buyer's Representatives, Certified International Property Specialists, e-Pros, Certified Residential Specialists and so much more!
Discounts
Enjoy discounts with NAR's Partners including:
- Sprint
- QuickBooks
- Placeter
- FedEx
- DocuSign
- Dell
PRAR is here for you!
From the beginning of the COVID-19 Pandemic, your Association has been working closely with local and state officials to keep real estate categorized as "essential." Your REALTOR® Association is your advocate through these uncertain times.
Though this year has looked very different, without some of our traditional events, we have provided member education, Q&A sessions with local leaders, and continue to work closely with our members to find solutions to every day problems in this "new normal." We look forward to continue working with you in 2021, finding new ways to support you and our industry, and hopefully soon inviting you back to in-person events other than our Education Classes!
Check out our UPCOMING EVENTS!
We have our 2020/2021 Calendar approved and will be posted shortly on our Website. Please check out our upcoming events on our website at www.prar.com or to the right of this newsletter.
Tickets on sale now for PRAR BROKER SUMMIT coming in FEBRUARY 2021. Registration is open for all PRAR, SC Licensed Brokers. Go to www.prar.com to Register.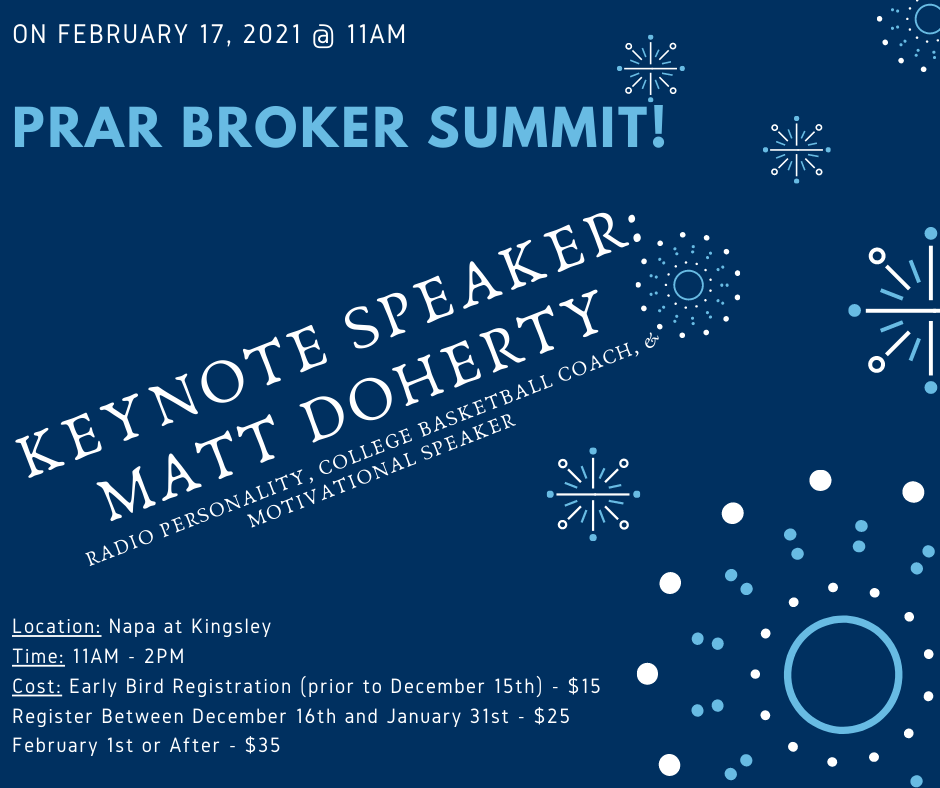 Join us for our December 9 Membership Meeting and Board Installation via Zoom!
While this year has definitely been different, we still want to share our successes with our Membership and have our Board installation as scheduled. Please Join us for the December 9th Board Installation, Annual Awards and Membership Meeting. Make sure to nominate your REALTOR® and Affiliate of the year today! Applications found HERE!
We are very fortunate and excited to have SCR President Owen Tyler and Appraiser Joe Versen as our Guest Speakers for the December Membership Meeting. Owen will share the success of SCR in 2020 and what lies ahead for 2021. He will also give us insights on some other National Committees he is serving on in 2021. Joe Versen will cover how Appraisals are affected in today's market with multiple offers and rising cost of lumber for new homes. We hope everyone can take away at least one new thing from these great business people!
Sign up today for the ZOOM meeting at www.prar.com/events!
Code of Ethics Changes Approved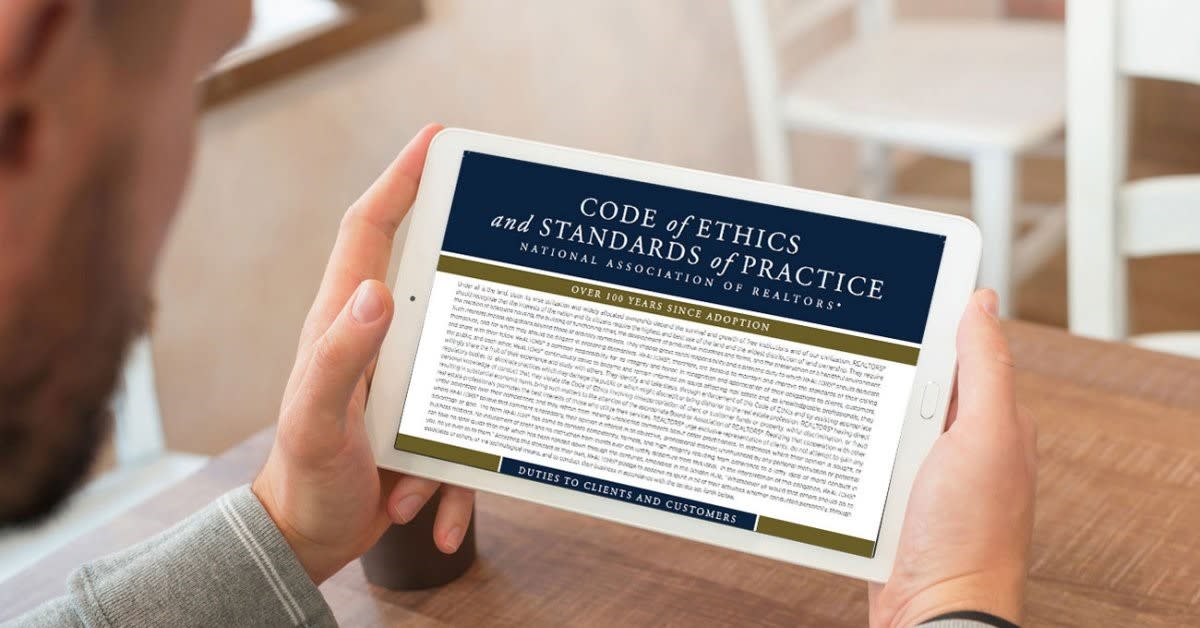 The NAR Professional Standards Committee met on October 5, 2020, to consider recommendations from its Interpretations and Procedures Advisory Board on the Code of Ethics' applicability to discriminatory speech and conduct. The Committee approved the Advisory Board's recommendations, and six of them were presented to and approved by the NAR Board of Directors at their November 13, 2020 meeting.
NAR's Board of Directors strengthened REALTORS®' commitment to upholding fair housing ideals, approving a series of recommendations from NAR's Professional Standards Committee that extend the application of Article 10 of the Code of Ethics to discriminatory speech and conduct outside of members' real estate practices.
Article 10 prohibits REALTORS® from discriminating on the basis of race, color, religion, sex, handicap, familial status, national origin, sexual orientation, or gender identity in the provision of professional services and in employment practices. The Board approved a new Standard of Practice under the Article, 10-5, that states, "REALTORS® must not use harassing speech, hate speech, epithets, or slurs" against members of those protected classes.
Read more about the changes here.
Dynamic Program Puts you on the Path to Success - New NAR Benefit
NAR teams with Buffini & Company to offer exclusive member pricing
As part of our continued efforts to provide valuable resources for members, NAR has partnered with Buffini & Company to launch the new 100 Days to Greatness® program. This 14-week program combines video-based training from industry expert Brian Buffini, role-playing exercises, and action steps focused on real-life scenarios participants can put into practice quickly for business success.

The course is aimed at newer agents looking for a firm foundation and those returning to the business after a hiatus—but the program will also serve those looking to jumpstart their business and take it to the next level. Brokers can explore a complimentary program that offers an opportunity to support their agents completing the course, as a mentor/facilitator.
Learn More HERE